We have your page here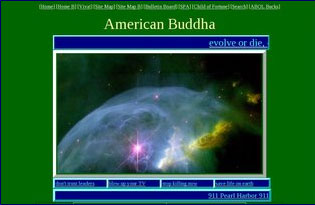 ABOL Members Sign In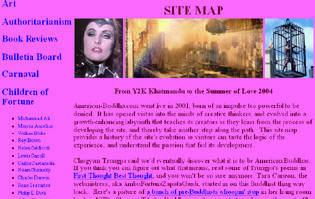 Just on the other side of this webpage, ABOL members are meandering by the thousands through virtual gardens where art, cinema, science, literature, philosophy, politics and spiritual essays are in perpetual bloom.
Consider: Monopoly Media Content -- Pricey!
ABOL Membership -- Priceless!
Through its vast collection of screen caps and its growing archive of Little Movies, ABOL transports members from Rob Reiner's Princess Bride to Stuart Urban's Preaching to the Perverted, from Fellini's Satyricon to Truffaut's Fahrenheit 451, from John Waters' Hairspray to Akira Kurosawa's Yojimbo. ABOL's collection of screenplays spans from Frank Capra's Mr. Smith Goes To Washington, to Carl Sagan's Cosmos series, to Richard Linklater's Waking Life. ABOL's got biographies of artists, authors, and political figures from Lewis Carroll to Joey Ramone, famous works like Martin Luther King's "I Have A Dream" speech, complete with current commentary. It's all a little like The Garden of Forking Paths described by Jorge Luis Borges, or the fortress of the Goblin King in Jim Henson's cinematic tour de force, Labyrinth. Sure, you'll end up buying something at Amazon anyway, but ABOL members make educated choices!
Click the Baby to join ABOL
YES, IT'S FREE, FREE, FREE!!!
(We wanted to make that perfectly clear)

GET ABOLIZED!
---
Check This New Stuff At ABOL
Our dedicated ABOL archivist is never-endingly busy sifting the streams of media for delicacies to add to the ABOL collection. Recently, the Sixties seem to be drawing more than their share of attention. The Sixties provide the setting for George Clooney's directorial debut, Confessions of A Dangerous Mind, a film version of the autobiography of Chuck Barris, who held down two jobs, one as the creator of The Dating Game, The Newlywed Game, and The Gong Show, and the second as a CIA assassin who dispatched thirty three victims. Op art meets haute couture in the fashion design/modeling work of Rudi Gernreich and Peggy Moffitt, lavishly chronicled in The Rudi Gernreich Book. The Knack and How To Get It is an offbeat English film comedy that follows a plucky young woman adrift in London, pursued by a trio of young fellows who each have different ideas about how to bed her.
Of course the Sixties weren't all fun and games. Every silver lining has its mushroom cloud, so ABOL is adding the Inspector General's 233-page declassified report on the Bay of Pigs fiasco, and the infamous Northwoods document where the CIA planned domestic terrorism to rile up war fever. And to ready you for the end of the world as we know it, ABOL is adding a growing gallery of screen caps from Doctor Strangelove. For spiritual lessons, we've got Tony Randall playing all Seven Faces of Dr. Lao, and in case that gives you nightmares, you might as well just go visit The City of Lost Children, as surreal a set of graphic images as you're likely to see with your eyes open.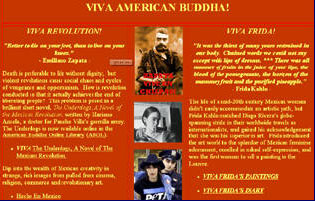 Hey You!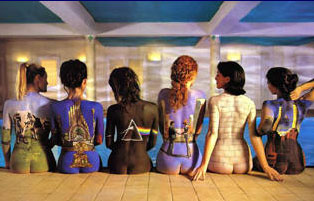 Hey you, out there in the cold
Getting lonely, getting old
Can you feel me?
Hey you, standing in the aisles
With itchy feet and fading smiles
Can you feel me?
Hey you, donít help them to bury the light
Donít give in without a fight.

Hey you, out there on your own
Sitting naked by the phone
Would you touch me?
Hey you, with you ear against the wall
Waiting for someone to call out
Would you touch me?
Hey you, would you help me to carry the stone?
Open your heart, Iím coming home.

Hey you, standing in the road
Always doing what youíre told,
Can you help me?
Hey you, out there beyond the wall,
Breaking bottles in the hall,
Can you help me?
Hey you, donít tell me thereís no hope at all
Together we stand, divided we fall.
-- Pink Floyd, The Wall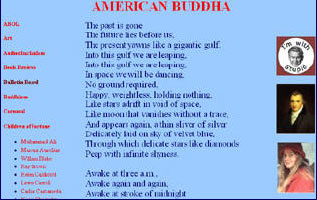 Popular Culture Made Easy
Countless visitors have studied the Frida Kahlo online collection that contains rare treasures elsewhere unseeable. Countless more have soaked up the Robert Mapplethorpe and Helmut Newton. ABOL members are listening right now to Pink Floyd, the Ramones, and watching Iggy Pop singing a duet with Debbie Harry in a rare AIDS-benefit video produced by Repo Man director Alex Cox. They're watching Little Movies of John Waters' amazing Cry Baby trash epic, starring Johnny Depp, Rikki Lake and (gasp) Traci Lords!
Serious Writing Made Fun
ABOL members are reading the poetry of science in the essays of Loren Eiseley, studying free thought with Thomas Paine, and listening to modern thinkers John Horgan and Rick Strassman explain why they turned off to eastern spiritual paths. They're reading essays, stories, and poetry by Charles Carreon, and the outrageous alt-Buddhist philosophical musings of Tara Carreon, aka AmbuFortunaZapataGaudi.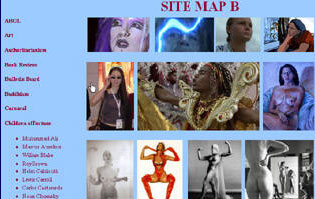 Erotica
Sexual concerns are uppermost in human minds, and ABOL's collection is comfortable with that, both theoretically, with essays on Buddha and Eros and The Anti-Pornography Movement, and more concretely. We believe that more people have thanked us for helping them see Uma naked on the beach than were present on planet earth during the Paleolithic era. On the streets, our intrepid ABOL photographers went back to the dawn of time to shoot the 2003 Folsom Street Fair in SF. Plus the classics -- Newton, Mapplethorpe, Lynnes, Sorayama, Hegre, Italian Spanking, Betty Page. Observe tattooed, pierced, bound and painted people before you emulate them!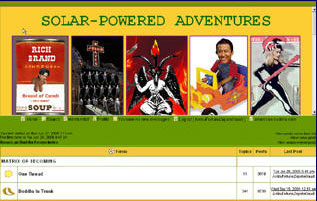 Spiritual Scandals
Scandal is the mother's milk of journalism, and at ABOL we got milk. Who else has the dirt on the Dalai Lama being on the CIA payroll? Or dares to drag spiritual disilluminaries like Andrew Cohen and Bob Thurman through the disreputable mire of their own foolish behavior and even more foolish words! Save yourself the trouble of smashing idols and butchering sacred cows -- we have the experience.